As a 6ft 3ins, Man Mountain (17st overweight dad), I've spent years being a body shape that has been neglected for years.
In my early 20s, I hit the gym hard almost 5 times a week and had a really stocky build in my shoulders and arms with a relatively small waist. Being a professional golfer at the time, my legs were also very stocky and this caused another issue.
Clothes just wouldn't fit!
Tops to fit the shoulders wore like a dress or were either too short and my belly button on show at the easiest of opportunities. Jeans were a definite no no. I was a 34L (omg I wish I was now!) but jeans in that size used to hug my legs like a carebear. I basically either walked around like a Triangle shaped T-Rex or had to spend ridiculous amounts of money on clothes without price tags.
Picture 15 years on and I still have the same shoulders and back but instead of a smaller waist, I'm now the keen bearer of a Dad Bod. I'm also still 6ft 3ins and have the same issues with clothes either being too box looking as they're as wide as they are long, or a dress.
Now I don't dare compare myself to Freddie Flintoff, England cricketing legend, however, he's also very tall and got big shoulders. He's also dapper as hell! Just look at him, what a legend.
Freddie has a Freddie by Jacamo range and I can say with a completely honest heart, I've never shopped there. They've got to pitch themselves to an audience and I never thought that audience was me. With their up to 5XL sizing, it didn't scream quality as we've all seen a massive T-shirt, not appealing.
But there was something about Freddie Flintoff and the comparison in height and broadness that made me think twice about the brand. His range of clothes fit him so well, I wonder if they would do the same for me?
Well you can make that judgement yourself.
Here I am sporting a ridiculously tired expression after a 2-hour meeting but also happy that the meeting ended up with us winning the contract!
I initially started with an XL which was way too big. I'm in between a Large and an XL with other brands due to the shoulder/chest fitting. Returns wasn't an issue and before I knew it, there was the right sized Herringbone Jacket at my door.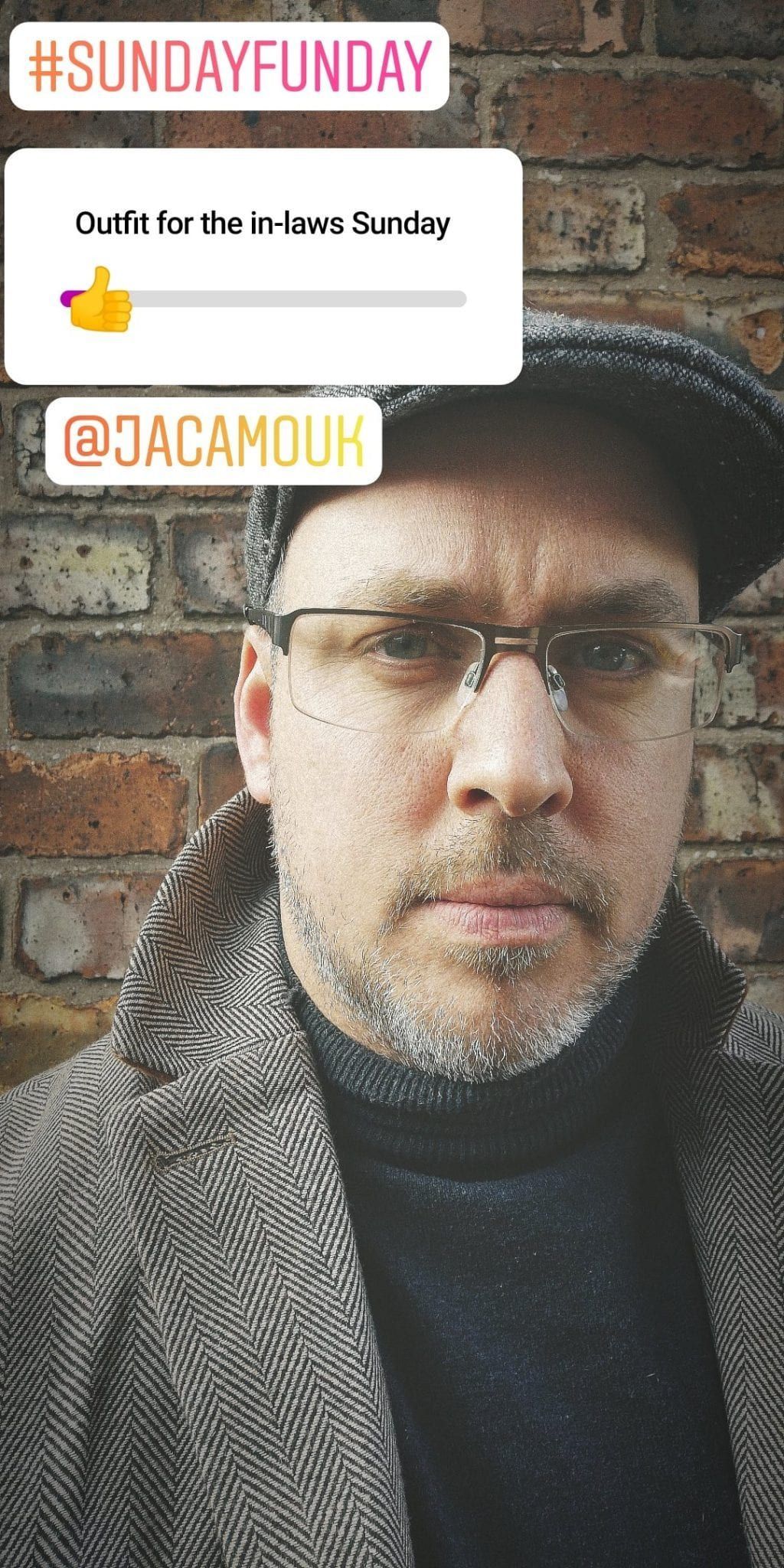 The material is a 60% Polyester, 40% Wool mix which apparently makes it machine washable! I know right that's ridiculous! However, I've found over the years that washing jackets is never a good thing as once they lose shape they won't age well.
So treat with care and don't give yourself an excuse to put it in the washing machine and if you do, follow the instructions. Nobody wants an action man sizes jacket unless you're an action man of course.
I've been thoroughly impressed with the sizing of the jacket and if anything it's too good. I've never known a jacket to have sleeves that actually go down to where they should, or to have buttons that actually do up like they should. It's also great to have a jacket where you can turn the collar up and still look great!
To top it all off, the Jacket was the price that you'd expect for a high street retailer but the quality that you'd expect from a boutique tailor. A fitted jacket like this from a brand like Gibson would set you back £300 and even then it's not really made for the biggest of men. This jacket is currently on sale for £84. Yep only £84!
I'm not a fan of everything in the range however there are some absolute gems and as a parent, there are also some real bargains! A lambswool cardigan that looks that good for £38.50 is definitely on my to buy list.
If you're too tall, stocky, wide, muscley or odd shaped, you need to pop in!




Jacamo is on my list of retailers where I can buy clothes that fit without having to buy two sizes bigger and compromise. But shopping with Jacamo is a completely different experience. They have an online shop with the full ranges, sizes, and descriptions but for the first time, if you can, I would recommend you visit a store. If you can't, make use of their very easy ordering process and refund policy.
Buying these clothes won't turn you into Freddie, however quality fitted clothing will turn you into a dapper version of you.